I've had the chance to look over 101 Ways to Increase Testosterone Naturally by Ryan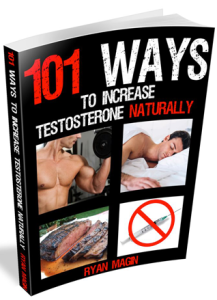 Magin.  I'm always interested in learning ways to boost testosterone, so I enjoyed reading through this one.  Here's my review:
As advertised, this 27 page e-book has over a hundred tips for minimizing your estrogen and maximizing your testosterone.  Magin's suggestions can be broken down into about four categories: foods, herbs/spices, supplements, workout advice, and miscellaneous tips/tricks (I'm not really listing these in order).
Overall I found this e-book to be helpful, easy to read, and informative–I learned some new things to try and even some things to avoid (or keep avoiding).
I would caution the reader not to get overwhelmed, especially when it comes to Magin's supplement advice.  Try following the lifestyle advice first, add some of his suggested vitamins (like vitamin D), and don't worry about the more exotic stuff (like Tribulus Terrestric, etc.).  I'm extremely skeptical about any kind of "testosterone booster" supplement based on the current research.  I believe lifestyle changes (diet, exercise, etc.) are the most important keys to increasing the manly hormone, so that's the advice I was more interested in while reading.
I'll share one area where I strongly disagree with Magin.  He encourages the reader to "watch more erotic entertainment," citing research that doing so can cause a temporary spike in testosterone levels.  I'm a Christian, so I think this is terrible advice.  Even if you don't object to this on any kind of moral/spiritual basis, there is a growing body of evidence that viewing adult material can actually cause impotence with "real" women, especially when done to excess.
Conclusion:  This e-book is good, but not great.  You can read my article on raising testosterone naturally if you're interested in a few simple tips.
Alternative program: You may want to look into The Man Diet if you want a complete plan to boost testosterone.