I've had a chance to look over Shaun Hadsall's 14 Day Rapid Fat Loss Plan.  I'll start this review by giving you a quick summary.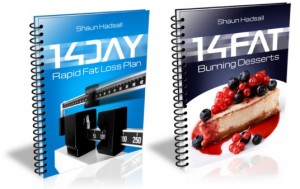 The main component of the program is the 14 Day Rapid Fat Loss Plan Manual.  This e-book is divided into six sections:
1. Rapid Fat Loss Strategic Training & Exercise:  this section explains Hadsall's philosophy of exercise.  He introduces the reader to two "new" concepts: metabolic bursting and interval sequencing (there's nothing really new in exercise, but he's adding his own unique terminology to specific strategies).  These are basically forms of high intensity interval training (HIIT) and and high intensity resistance training (HIRT).
2. Rapid Fat Loss Tips and Tricks:  This section includes seven strategies for losing the maximum amount of fat in minimal time.  The first, for example, is to train in a fasted state.  This is controversial, of course, but I believe in this strategy.  The author quotes quite a few studies to back up his recommendations.
3. Introducing Macro-Patterning & Your Rapid Fat Loss Meal Plans:  Macro-Patterning refers to strategically timing the way you eat your macronutrients (protein, carbs, and fats).  More specifically, you'll be trying to deplete your body of glycogen (fuel within the muscle) on certain days in order to maximize your fat loss.
4. Four Mental Tactics for Fat Loss That Lasts Forever:  This chapter lists some strategies for dealing with the mental aspects of fat loss.  This is helpful because your mentality will ultimately determine your success or failure.
5. Scientific Tips, Tricks, and Techniques For Rapid Fat Loss (Bonus #1):  Here you'll see some extra strategies for maximizing your success with this plan. One tip he includes is how to get the most out of your cheat day without adding fat.
6.  Intro to Macro-Patterning Recipe Boot Camp (Bonus #2):  As the name implies, this chapter includes sample recipes that correspond with the specific strategies you'd be using with this diet.
The plan also includes a bonus e-book:  14 Fat Burning Desserts.  I think the name is self-explanatory, so I won't go into great detail.
Review:
Obviously there is a limit to how much fat you can loose in 14 days.  Having said that, I think many would be surprised just how much leaner they can get in this time if they follow Hadsall's plan exactly.
One area of disagreement:  A specific brand of supplements is recommended in this e-book.  I'm sure the brand is fine, but I'd recommend you shop around and make sure you are getting the best deal before you buy and kind of supplement.  Based on my experience, any reputable brand will do.
I'll tell you who I think this plan is best suited for:
*Trainees looking to break through fat loss plateaus.
*Someone who wants to lose the most weight possible in preparation for some upcoming event (a social event, for example).
*Anyone who prefers the "all-or-nothing" approach to fat loss and prefers to get it over with quickly.
If this describes you then the 14 Day Rapid Fat Loss Plan may be a good match for your situation.  Just click here if you'd like to check it out.
Alternate Programs:
Rusty Moore's Visual Impact Cardio is an excellent, all-around guide to diet and fat loss.  This would be a good reference for someone wanting a less extreme approach to diet.
Jason Ferruggia's Renegade Diet is an excellent plan based on the concept of intermittent fasting.  I follow this way of eating in order to stay lean.
You can check out my list of recommended programs if you have other goals in mind.