I've had an opportunity to review the 3 Week Diet by Brian Flatt.  Let me first by telling you what you get if you choose to order this program (note: these are all in digital formats–they are not "hard copy" books).
Program Components
Introduction Manual:  This book explains the "how" and "why" of the diet.  The author presents the scientific rationale behind the 3 Week Diet and shows you how to implement it for maximum success.  The manual also includes information on supplements that may be able to help target "stubborn" fat.  He mentions yohimbine, for example, which is one of the only supplements I recommend for fat loss.
Diet Manual:  This book is designed to help you set up your eating plan (daily calories) based on your estimated body fat percentage (you can calculate it with a formula provided in this book).  Flatt also provides a list of foods that will help you maximize your fat loss along with a list of foods to be avoided at all costs.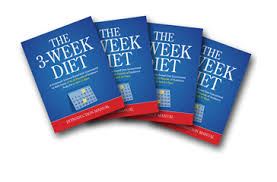 Workout Manual:  This illustrated exercise guide shows you how to burn the maximum number of calories in minimal time.  One nice thing about the training component is you don't have to commit to lengthy gym sessions.  You can in fact, do this program at home if you have some basic equipment (dumbbells and a bench).  You'll notice the exercise component is not very elaborate for good reason–you shouldn't over-do your training when you are keeping your calories and carbohydrates low.  Just some walking to burn calories and a little resistance training to preserve muscle (and burn some extra calories is enough).
Mindset & Motivational Manual:  One of the most overlooked aspects of weight loss is the psychological element.  This manual provides tips and tricks that will help you get (or stay) motivated and change your mindset.
REVIEW:
Needless to say, this program is a "crash diet" approach to weight loss.   This term has a bad reputation since slow and steady weight loss is considered a more ideal way to do things.  But losing weight quickly does have a few advantages:
Time: You may need (or just want) to lose weight withing a limited time frame.  Certain athletes, for example, may need to drop the pounds in time to qualify for their weight class.  It may be a simple as wanting to get ready for some social event.  There are reasons/situations for which a slower fat loss strategy is not practical.
Motivation: There's something to be said for the motivation that comes with seeing the numbers on the scale move quickly from one day to the next. Dropping a lot of weight quickly can also be a good way to get started on a much longer journey.  You may want to do this plan, for example, then follow up with a more "balanced" approach to fitness with the momentum you have created.
Focus:  Most of us go to the gym or start a training program with more than one goal–we want to look leaner and more muscular (most female trainees would say they want to get "toned").  But there's something to be said for focusing all your effort on a singular goal for a short period of time (that goal being fat loss in this case).
Do you fall into one of these categories or have your own reason for desiring rapid weight loss?  Keep reading while I explain the diet in a little more detail.
The 3 Week Diet is a modified version of a protein sparing modified fast.  Unlike a complete fast, you will be eating.  But your calories will be very low and mostly come from protein and fat.  This, combined with resistance training, will help you lose the most amount of fat possible while preserving as much lean mass as possible.  This isn't an "easy" way to lose fat, but it is very effective (I've personally used this strategy with good results).
Keep something in mind if you decided to try this diet:  some of the weight you lose will be temporary because it is water and glycogen (glucose in the muscles/liver).  But this isn't necessarily a bad thing for three reasons:
1.  If you need to make weight for a sport (or some other reason) it doesn't really matter what kind of weight you have lost.
2. As I've mentioned, there is something very motivational about seeing the numbers move down quickly on the scale.
3.  Low glycogen levels are an important component of fat loss, which is ultimately what most of us are after (you'll see this explained in more detail in the program material).
SUMMARY:
No one diet/exercise program can meet everyone's needs.  The 3 Week Diet is designed for those who desire to focus on losing weight quickly to the exclusion of other goals.  If this describes you then I believe this program is a worthwhile investment that will deliver good results.  Just remember it will require you to adhere to a strict diet.  Click here if you'd like order or to learn more about the 3 Week Diet. 
Feel free to check out my list of Recommended Programs if you think something else may better suit your goals.