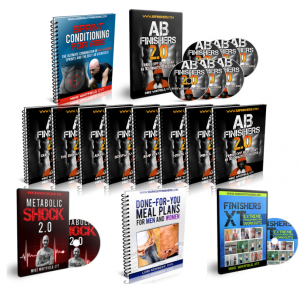 I've had a chance to look over Ab Finishers 2.0 by Mike Whitfield.  Let me start this review with a summary of what you get when you order the program:
The Ab Finishers 2.0 Manual*
This illustrated guide presents the overall program.  The concept is pretty simple–a combination of exercises you can do after your weight training session to burn extra calories, do some cardiovascular conditioning and take care of your abdominal/core work (you could also do these exercises on a day you don't lift weights).  The training protocols are divided into these main categories: primer, hybrid, jump rope, bodyweight, ladder, and dungeon (these categories are explained in the manual).
Metabolic Shock 2.0 Manual*
These workouts combine several techniques in order to burn calories through intense, time efficient training.  The exercises are illustrated and the manual includes printable workout sheets.
Finishers XT Manual*
This training manual includes bodyweight exercises, compound lifting, metabolic conditioning and fat-burning finishers.  This looks like a more advanced level of training and could be used for those who want to focus their entire workout on burning fat/calories.
*These three manual have follow-along videos you can watch online.
Sprint Conditioning for Abs Manual
This guide explains how you can incorporate sprinting into your training.  The workouts have you alternate different types of sprinting with abdominal/core exercises.
14-Day Meal Plans for Men/Women
Two weeks of meal plans for those who need help getting started in a healthy, low calorie diet.
8-week Quick Start Guide
This is a simple checklist to help you through the first two months of training.
Review:
I really like the concept behind Ab Finishers.  Even devoted trainees have a tendency to neglect both cardiovascular and abdominal training–both can be tedious.  This program allows you to take care of both in just a few minutes.  I think this would be a good investment for those who want an efficient way to burn extra calories and effectively train the abdominal/core muscles.  Just CLICK HERE if you are interested in learning more about Ab Finishers 2.0.  Please use my links if this review has helped you.