I remember a few months ago when Vince and Flavia announced that they were expecting a baby.  I was really happy for them because I respect them both as business partners and fitness professionals.  Flavia's Curvalicious Program for women has been a top seller and I know it has helped many women transform their bodies.
As you can see in the picture above, Flavia is having a healthy, "all-belly" pregnancy, meaning she has avoided excessive weight gain.  The All-Belly Program teaches other women how to do the same.  Let's first talk about what you get if you decide to buy it:
1. How To Exercise When Expecting workout videos. One thing that has always stood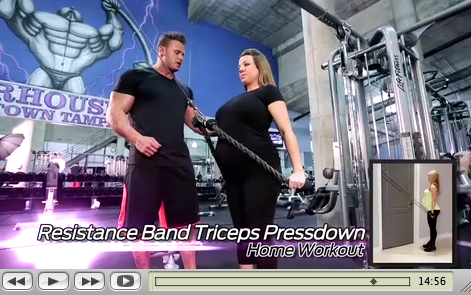 out to me with Del Monte fitness products is their high quality training videos.  I believe it is the best way to see how an exercise is done, and I also find it more motivational.  This video series will guide you how to safely exercise through each trimester.  These workouts can be done at home with minimal equipment.
2. The Workout Guide is the pdf version of the exercise guide.  It is fully illustrated and has some extra information that you'll find helpful.
3.  Printable Workout Sheets you can take with you to the gym and record your workouts.
4. What to Eat When Expecting:  As you know, eating the right foods is a huge part of maintaining a healthy weight and body fat level.  This e-book teaches you how to make wise food choices for yourself and your baby.
5. How to Supplement When Expecting this is the suggested vitamins, etc. to consider taking while pregnant.
6. LIFETIME Access To The Flavilicious Membership Forum:  this members-only forum will allow you to interact with other women and get encouragement and advice for your fitness journey.
Available Up-sells:  these are additional products you can buy with the program.  They are optional and you do not have to buy them, but you can purchase any (or all) of them if you think they would meet your individual needs.
*Yoga for Pregnancy:  these prenatal yoga workouts show you another way of training in order to stay physically flexible and mentally relaxed.
*Full-Body-Licious:  This would be a fantastic program to follow after your pregnancy to get back into "pre-baby" shape (just keep in mind this is for after you have given birth).  Full-Body-Licious has been one of my best-sellers for women, and buying it as part of this package is very cost-effective.
*Bodyweight Bella & Advanced Amazing Ab Workouts: These are also programs you could do after you give birth to get back into shape.
Review:
Let me say this before I go any further: be sure to talk to your Obstetrician/Gynecologist before doing any exercise program.  Be sure your doctor gives you clearance to train.  I would also encourage you to check with your doctor about what prenatal vitamins you should take.
I know one of the biggest issues women face as far as health/fitness is having a healthy pregnancy–eating well and gaining the right amount of weight.  I'm glad Flavia has addressed this issue and created a program that is easily accessible via internet.
All-belly pregnancy seems well-suited for healthy women going through a normal (low-risk) pregnancy.  I think it would be beneficial for those who are interested in doing safe, appropriate exercises, eating well, and having an overall healthy pregnancy.  I especially appreciate the fact that the workouts in the program change with each trimester.
Just click here if you are interested in purchasing or learning more about this program.  Please use my links if this review has been helpful.
Alternate Programs:
I would recommend Flavia's Curvalicious Workout as a general program for women who are not pregnant and trying to get in shape (lose body fat, etc.)