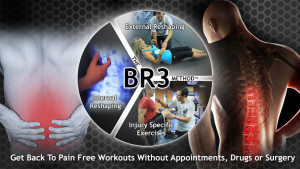 I've had the chance to review Fix My Back Pain, the new program to help those with back injuries.  I've been impressed with previous programs from these authors/creators and I was also personally interested in this concept (I've also had back pain issues at different times throughout my lifting "career).  I'll start this review with a program description/summary–here's what you'll get if you order it:
Quick Start Video Guide: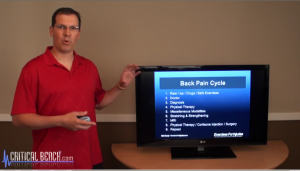 This video will get you started with the program–be sure to watch it before you get into the other videos.  Rick Kaselj discusses his background/experience and explains the the "back pain cycle" that many trainees endure.  The object, of course, is to break this cycle through a series of exercises.  He also describes various kinds of back injuries and their symptoms.
Component 1: Internal Back Reshaping
This is another video you need to watch.  Kaselj argues that at least 20% of the results will come from following some practical steps such as doing some simple decompression exercises.  This, he argues, is the first step to living pain-free.  There are several practical steps here in addition to the decompression movements.
Component 2: Outer Back Reshaping
This video has instructions for the way the rest of the program will work–exercise protocols designed to strengthen muscles in such a way as to protect the back and reduce/eliminate pain.
Component 3: Injury Specific Training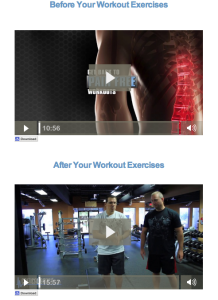 Here's the aspect of the program that is custome made: you choose the final instructional videos according to the specific type of injury you have.  Once you've chosen the appropriate category you can download videos and and exercise manual.  The disc herniation & bulges page, for example, has suggested exercises to do before and after you train.  As mentioned, the idea is to strengthen muscles that will help reduce the pain associated with a specific type of injury.
BONUSES
You'll get some bonus material when you order Fix My Back Pain:
Barbell Deadlift Dominated (pdf file) and Pain Free Deadlifting (video).  Both of these resources will help you safely increase your strength in this foundational exercise.
48-Hour Back Pain Rescue Guide (pdf and video).  These are exercises you can do to relax and strengthen your back.  No equipment needed.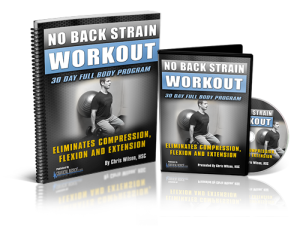 No Back Strain Workout.  A guide to exercises that avoid compression/strain on the back (video and e-book are integrated).
REVIEW:
Fix My Back Pain is a cost-effective way to help trainees manage or alleviate pain.  I'd highly recommend it for those who want to use exercise as a means of dealing with pain/injuries of the back.  Just keep in mind there is no substitute for visiting your doctor–be sure to talk to your physician if you aren't sure of your ability to safely exercise.  Just click here if you'd like to order or learn more about this program.