Critical Bench's Mike Westerdal has teamed up with Rick Kaselj to create a new program called Fix My Shoulder Pain.  This program is a combination of videos and e-books (pdf files) you can download once you've ordered it.
Kaselj really knows his stuff when it comes to joint health and describing how to keep your shoulders free from injury.  He explains things very well in the videos, and the prevention/rehabilitation techniques are fairly simple to implement.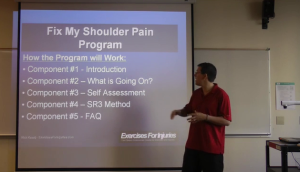 I rarely recommend a single program for "everyone"–usually I encourage people to consider their experience level and goals when deciding whether or not to invest in training information. But Fix My Shoulder Pain is an exception–I think anyone who lifts weights should consider investing in this program: beginner, intermediate, or advanced.  This information would also be good for personal trainers.
Shoulder injuries are extremely common among those who lift weights, and spending a few bucks to prevent (or rehab) your shoulder is a no-brainer as far as I'm concerned.   I can say this from experience–this kind of injury can pretty much sideline your training (been there, done that).  Just click here to check out this program.