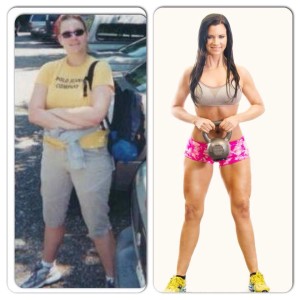 Kerri Baker is one of those inspiration people I've had the privilege to meet as a fitness blogger.  She dropped over 100 lb. and achieved her dream of competing in a bikini model contest.  The Model Mind Trainer is a program she has developed to help others achieve their weight loss and fitness goals.  I'll start this review by summarizing what you get when you order this program.
The Quick Start Guide:  Be sure to start with this.  Kerri starts with her own story/testimony of her transformation and also gives some important tips for making the most of this program.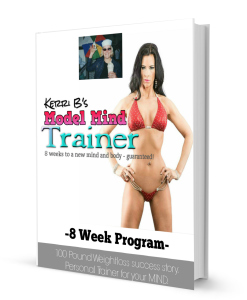 Model Mind Trainer 8-Week Program:  This e-book is kind of the "heart" of the whole program.  Kerri explains how she learned to "reprogram" the way she thinks in order to ultimately change her body.  She also emphasizes five components of life (which she calls "legs") and how you can change or maximize them.  One such "leg," for example, is overcoming bad habits and addictions.
Model Mind Workbook:  This goes along with the 8-week program.  You start by signing a contract with yourself to finish the course.  From there you will write answers to questions based on the trainer program book.
Bonuses:
Bikini 365:  This is a recipe book that with several ideas for cooking healthy meals.
Food Prep Guide:  Kerri teaches you how to plan ahead and stock your refrigerator/kitchen with the right kinds of foods.
Grocery Guide:  As the name implies, this e-book has practical instruction which will help you avoid sabotaging your weight loss goals when you go shopping for food/ingredients.
REVIEW:
There are a couple of things that intrigue me about this program.  First and foremost, I appreciate the fat that Kerri Baker has walked the proverbial walk as far as weight loss transformation goes.  Her life journey has given her really good insights that many readers (especially women) can relate to.
I also like the overall concept of changing the mind in order to change the body.  Arnold Schwarzenegger frequently talked about the role of the mind in his training.  You probably aren't interested in being a bodybuilder, but the principle is the same nonetheless–people who accomplish great things with their bodies have developed a completely different mindset than those who have not.  I think the mental aspect of fitness is severely underestimated and the main reason why so many trainees fail to reach their long-term goals.   I think Kerri is on to something here, and the proof is in what she learned through her own struggles and accomplishments.
I think this program would be best suited for any of the following:
*Trainees who have struggled with "yo-yo" dieting–losing weight only to gain it back.
*People who are looking to make a lifestyle change as it relates to diet.
*Those who struggle with sabotaging their weight loss goals.
These are just a few types of people that I think will benefit from this book, but you get the idea.  Please CLICK HERE if you are interested in ordering the Model Mind program.
You can also check out my recommended programs if you thing something else may more closely match your needs/goals.