Nick Nilsson has updated Muscle Explosion, a program I reviewed a while back (you can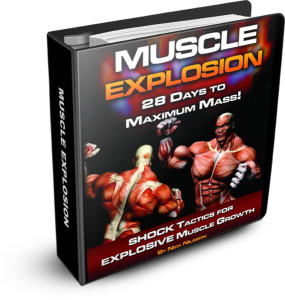 check out my original review if you are interested). This program is based on the same principles as the original but he has tweaked it to make it even more effective.  What's new with the version 2.0?  I'll explain.
1. A day of fasting.
One of the strategies in Muscle explosion is to get your muscle glycogen levels low through certain dietary strategies.  In the this revised version you'll have the option of fasting for 24 hours (kind of like what is proposed in Eat Stop Eat).   The idea is to prime your body/muscles to "bounce back" once you refill them why glycogen (by eating carbohydrates again).
2. Reverse Carb Tapering
You will be advised to try eating most of your carbs at dinner (your last meal) during the third and fourth week of the program.  The idea is to minimize fat or even promote fat loss (similar concept as the Renegade Diet).  Nilsson calls this "reverse carb tapering," and it is explained in more detail in the program.
3. Supplements
Some new supplement brand recommendations have been added.  But I would recommend you just stick to reputable brands and take a minimalist approach to supplements (protein, creatine, fish oil, and a multivitamin).
4. Fat Loss Circuit Training
Nilsson has tweaked the fat loss aspect of the training.  You'll be doing movements that involve the whole body instead of bodypart split training.  You should find this workout more interesting (and challenging) than what was in the original version.
5. Lactic Acid Training
The original Muscle Explosion utilized partial training methods (stretched and contracted positions) in the lactic acid training phase.  But the new version uses more conventional methods for this–high repetitions and rest-pause training.  You'll find this to be a simpler way to get the lactic acid going.
6. Positions of Flexion 1 and 1/4 Rep Training
Nilsson found has replaced stretch-pause training with this method.  This is better to maximize the tension on the muscle you are trying to train.  It also allows for a better stretch and contraction.
7. Weak Point Training
The new program has a day dedicated to target the weak points of major lifts.  You will do a lot of volume on weak points without frying your central nervous system.  The result should be stronger overall lifts.
8. Single-Rep Cluster Training
The original Muscle Explosion was more for hypertrophy and didn't really include strength training.  You'll be dedicating a full day to strength in the the new program through a method called single-rep cluster training.
Review:
I think Nilsson has taken a great program and made it even better with Muscle Explosion 2.0.  This would be good for intermediate to advanced trainees who are looking to break through plateaus in building strength and size.  Please click here if you'd like to order this program or learn more.