I've had a chance to look over Muscle Imbalances Revealed 3.0 (Lower Body Addition).  As you can discern from the title, this product/program is all about learning how to correct issues of balances in strength, mobility, etc.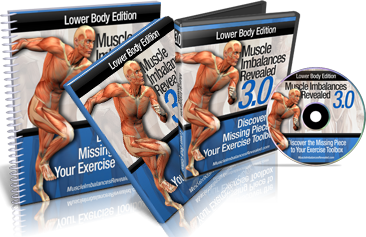 This is a six hour "webinar" conducted by sports science professionals.
Here are the topics covered:
Component #1 – Muscular Imbalances in the Hip & Pelvis
Component #2 – Mobility & Muscle Imbalances
Component #3 – Maximizing Strength & Stability of the Knee
Component #4 – Identifying Muscular Imbalances in the Lower Body
Component #5 – Addressing Muscular Imbalances in the Lower Body
Component #6 – Addressing Muscular Imbalances in the Shoulder
Component #7 – Fascia, Exercise & Muscle Imbalances
Component #8 – You Can Earn Continuing Education Credits
Component #9 – Muscle Imbalance Exercises for the Lower Body
Component #10 – Fascia, Exercise & Muscle Imbalances – Part 2
Component #11 – Naked Running (re: barefoot running)
Component #12 – Corrective Exercises for Performance
Component #13 – DB Mobility Workout
Component #14 – Strategies to Improve Hip & Ankle Mobility
The information is available in DVD form, downloadable video, and pdf files.  I found it easy to navigate the website and download the components.
Review:
This is a cost-effective way for fitness professionals to get training information–you wouldn't have to travel, etc.
I think personal trainers and physical therapists would be the most likely to benefit from this webinar. The nice thing is this program is approved for continuing education credits for the following organizations: 0.6 NSCA CEUs, 0.6 NASM CEUs, 0.7 ACE CECs, 6.0 BCRPA, 6.0 AFLCA Credits, 6.0 BCAK CEC, 3.0 PTS/3.0 FIS CanFitPro CEC, 5.0 CMTBC, 6.0 OFC and CSEP 6 PDC.
But this could also benefit athletes or advanced trainees who want to build their knowledge of exercise science and the way the body works.  It could help you correct strength imbalances and prevent injuries.
Just click here if you'd like to check out Muscle Imbalances Revealed Lower Body Edition.  Note: this program has other editions/versions–as I've said this review is based on the is the lower body edition.  I'll try to review other versions in due time.