I've had the opportunity to review Jason Ferruggia's newest product called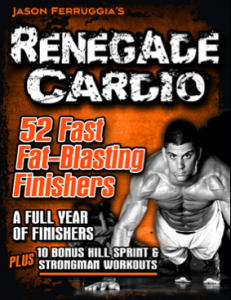 Renegade Cardio.  Here's what I think:
We all know some form of cardiovascular training should be included in our workout plan.  But there are a few problems with more traditional (steady-state) cardio:
*It is time consuming.
*It is boring.
*It can interfere with your gains in the weight room if taken to excess.
Now let me say this: I'm not necessarily opposed to traditional cardio.   You can use it to lose fat, and I think the negative aspects of it are often overstated.  But I've always had a real problem getting motivated to spend 30 or 40 minutes on a treadmill.  The end result is I have never consistently done it.
The solution Ferruggia proposes is to do high intensity cardiovascular training at the end of your workout—these exercises are called "finishers."  It makes sense do time your cardio this way because your glycogen levels would already be lowered from the weight training (which is an ideal environment for fat burning).  I've found this to work much better for me.
There's one more advantage to this approach to cardio:  it is much more practical for athletes.  Most sports are anaerobic in nature, requiring you to perform at a high intensity for short intervals.
Renegade Cardio has 52 different routines you can do, so there's no reason to get bored with your cardiovascular training. I was impressed with the variety he's put into this program–you can do these with the basic equipment you'd find in most gyms (there are even body weight routines for those who prefer no equipment).
I'd highly recommend this program for those who want an alternative to stair climbers and treadmills.  Just click here to buy this program or to learn more about it.   Please use my links if this review has helped you.
Note:
I'd also recommend you look into the Renegade Diet if you want to get lean.  Remember that exercise is only part of the equation.