I've had the chance to look at the Spartan Fitness and Health Program. This workout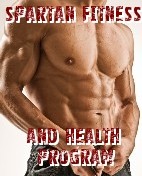 routine and diet plan is designed to be something you could do at home with minimal equipment. I'll start this review with a summary of what you get when you order this program:
Spartan Fitness Manual: This document explains the overall training philosophy behind this program. The Spartan ideals, according to the author, can be described in a few words starting with the letter "s": spare, strong, and stern. He goes on to describe their "rigorously simple" approach to life and how we can apply this to fitness.
Spartan Beginner's Guide: This has six chapters with practical tips on how to make some healthy lifestyle changes. You'll learn how to get started on your journey to better health.
Natural Herb Cures: You'll learn about vitamin and herbs as alternatives to treat or prevent illness. There are suggestions, for example, on herbal remedies you can take for acne.
Navy Seals Workout: Learn the suggested training preparation for this elite branch of the military. It includes their pass/fail standards for certain tests as well as a suggested training regimen.
100+ Smoothie Recipes: As the name suggest, these are nutritious drinks you can make in your blender to use as snacks or meals.
Self Defense Secrets: This is a nice addition—a practical guide for self-defense. It includes tips for avoiding attacks as well as ways to train and prepare for defending yourself in a life-or-death situation.
Bonus Material (6 extras):
Build Muscle Without Weights: Several helpful tips on gaining strength and size without a gym. The author includes some unique techniques and exercise suggestions.
Build Muscle While Losing Fat Diet Plan: This is a very simple guide for getting lean and muscular. Food choices and sample meals are listed.
Bodyweight and Dumbbell Exercises: This 80-page document is an illustrated guide to exercises you can do with only your body weight or dumbbells.
How to Get the Ultimate 6 Pack: A simple but effective guide to abdominal/core training. No special equipment needed.
Kettlebell Training: A completely illustrated guide to basic kettlebell training.
Supplement Guide: The author's guide to supplements (note: I'd suggest you stick to the simple supplements I recommend).
Supplement Guide: The author's guide to supplements (note: I'd suggest you stick to the simple supplements I recommend).
Review:
I've always found a way to work out at a nearby gym and do traditional strength training or bodybuilding. But this is not the only way to develop a lean physique, and there are several reasons why guys may not want to join a gym (expensive fees, no gyms nearby, etc.). I think Spartan Fitness and Health is an excellent, cost-effective resource for those who want to get in shape in their own home. This program would be best for the following:
*Guys who aren't interested in joining a gym.
*Trainees who want to improve conditioning for martial arts, military, or other similar physical challenge.
*Those who are interested in getting the most out of simple home gyms (dumbbells, kettlebells, etc.).
*Beginners who want to develop a basic level of fitness before getting involved with a more advanced weight lifting routine.
If one (or all) of these descriptions applies to you I think Spartan Fitness and Health would be a worthwhile investment for you. Just click here if you are interested in buying this program. Please use my links if this review has helped you.