The Truth About Abs by Mike Geary: Review
I have to admit that I used to think The Truth About Abs was some kind of scam or gimmick. I'm a skeptical person—especially when it comes to fitness products. After seeing so many ads for it I figured it was some kind of trick.
Then I did a little more investigating and I realized it was pretty solid information. I started to market it , and it has since become one of my best selling fat loss programs. I've also had very few refund requests for it. It comes with a money-back guarantee, so buyers can change their mind if they aren't satisfied. But so far I can only remember one such refund request.
I've finally had a chance to review the program, and I now understand why it is so successful—it's the real deal. It isn't some scam, fad diet, or gimmick. Geary simply lays out what is needed to have a lean physique.
Let's talk about what you get when you order The Truth About Abs:
The Truth About Abs E-book: This is the centerpiece of Geary's program. I'll summarize it in two parts.
Diet:Mike Geary explains the basics of how to eat for leanness. He advises readers to eat a health balance of protein, fats, and complex carbohydrates while avoiding certain types of foods (like highly processed carbohydrates). I think he does an excellent job of explaining this—it is not overly complicated, but there's enough information for you to use this e-book as a reference.
Exercise: Geary lays out a basic exercise plan for burning body fat and building muscle. He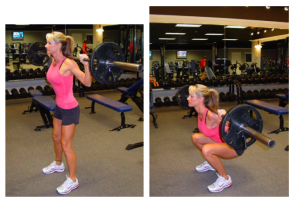 also explains why steady-state cardio (walking for hours on a treadmill) is often not the best strategy for getting lean. He recommends training 3-4 times a week, which is reasonable for most people (most of us have a full time job and can't spend every day in the gym). The exercise plans are nicely illustrated—here's a sample picture (barbell squat):
This e-book is a really good, basic blueprint for losing fat. I believe you will get lean if you follow Geary's plan.
This program also includes a few "bonuses" from other authors/trainers:
Advanced Abdominal Fat Burning Meal Plans: This e-book has some specific meal plans. It will give you more ideas on how to plan your meals.
The Dumbbell Bodyweight Fusion Program: This e-book is from the creators of Turbulence Training—great for those who want to train at home or work out with limited equipment.
Turbulence Training for Amazing Abs: Another Turbulence Training routine. As the name implies, this e-book is composed of abdominal routines.
I did disagree with Geary on a few points. First, he is kind of negative about low carb diets. I understand his concerns, but I think low carb diets can be very effective in some situations. I also don't agree with him completely on the importance of 5-6 meals a day. While I think this strategy does have advantages, I've come to believe meal frequency isn't that important (see my article on meal frequency and fat loss).
Conclusion:
The Truth About Abs is a cost-effective way to learn how to lose fat and get a lean, healthy physique.  It has a great track record of satisfied customers and I recommended it without hesitation.  Please use my links if you decide to try this program (just CLICK HERE).  You'll be getting a good deal and supporting an honest voice in the fitness industry.
Alternative Programs:
I'd recommend Joel Marion's Xtreme Fat Loss if you'd like to try a slightly different and more radical approach to diet.  This program uses intermittent fasting, which I've found to be very effective.
Female trainees may want to check out Flavia Del Monte's Full-Body-Licious.  The workouts were created specifically for women.