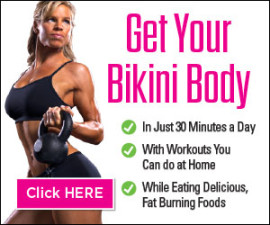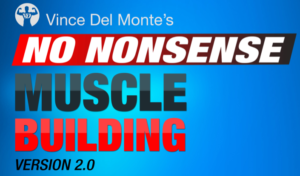 Vince Delmonte's new, updated bodybuilding program has arrived. It's called No Nonsense Muscle Building 2.0: Gene Expression Training to Increase Testosterone, Leanness, and Mass.
Before I go into further details I'd like to start this review by sharing some of the most common mistakes made by trainees who are trying to build muscle (for those who may be new to my blog). I think this will help understand why Vince Delmonte's program can be extremely helpful to some people:
Muscle Building Mistakes
Mistake #1: Trying to imitate the routines of professional bodybuilders.
It's not uncommon for guys to naively copy a program they've read in a bodybuilding magazine and think it will give them results. This is not advisable for a couple of reasons. First and foremost, the vast majority of bodybuilders use anabolic steroids. These powerful drugs enhance their ability to train and recover–trying to imitate their workouts is likely to result in overtraining. But there's something else to consider: professional bodybuilders tend to be genetically gifted (even without the drugs). What works for them just may not work for you.
Mistake #2: Spending too much money on supplements.
The bodybuilding supplement industry has been around for decades. They've been making pills, powders, and potions that will supposedly help you build muscle, lose fat, and increase athletic performance. The industry has produced a few helpful supplements, like creatine monohydrate, whey protein, fish oil, etc. But there's a lot of junk out there that's a complete waste of money. Unfortunately, many naive consumers fall for slick advertising with no scientific backing.
Mistake #3: Inadequate nutrition
A lot of guys put work in the gym but don't put any real effort into planning their meals/nutrition. You can make some gains without eating well, but why not get the most out of the effort you put into training? Learn to eat properly and you'll be able to reach your natural genetic potential in terms of building muscle and losing fat.
The mistakes are some of the reasons that beginners get frustrated with their results in the gym. You can avoid these errors by following a well-designed plan for transforming your body. With this in mind, let me explain what you'll get if you decide to invest in No Nonsense Muscle Building 2.0.
No Nonsense Muscle Building 2.0: Program
Components
Gene Expression Training: Muscle Fiber Switch Trick Guide
This book introduces some of the overall training philosophy behind this program.  I'll give you a little summary:
Human skeletal muscle is composed of two basic fiber types: slow twitch (type 1) and fast twitch (type 2).  Type 1 fibers are associated with endurance while type 2 are associated with strength and speed.  We are born with a certain percentage of each–it is genetically predetermined.  We can't change our genetics, but we can adjust our training to be more customized to our muscle fiber composition (by manipulating the rep range, etc.).  Delmonte explains this in more detail in the manual.
Quick-Start Guide
This simply guides you on what you'll need to get started. You can check it out before you dive into the other components.
Training Guide and 18-Week Training Program with Printable Workout Sheets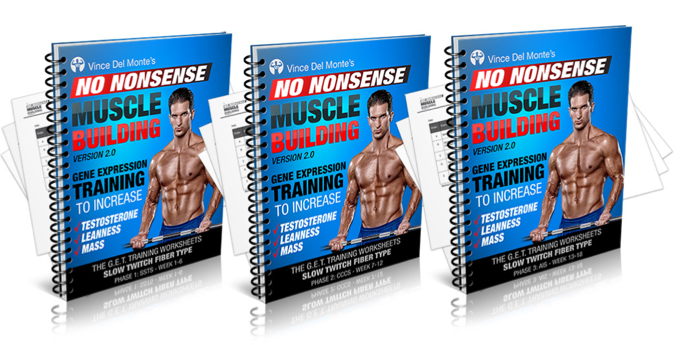 These guides will show you exactly what workouts you should do for over four months. The beginning phase emphasizes building muscle mass. The second phase switches over to strength, and the final phase helps you to lower your body fat to finish off the process.  The progression here makes sense: generally speaking, bigger muscles will have more strength potential.  You can work on getting lean after you've built some size and strength.
The program will introduce you to effective training techniques that will make working out both interesting, challenging and efficient (more muscle in less time).
Here's what's really interesting about the training component of No Nonsense Muscle Building 2.0: There are three separate training guides you can follow according to your specific muscle fiber composition. This helps you get the best results according to your specific training needs.
Nutrition Guide
As I've mentioned before, you'll never get the results you desire without proper nutrition. This book will show you how to plan your meals in order to achieve optimal results. You can customize the meals for your own specific needs/goals (fat loss, building muscle, etc).  Study this thoroughly–it can make or break you as far as your gains go.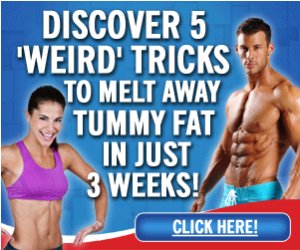 Supplement Guide
As the name implies, this component is about supplements. The information is good, but I'd advise you to simply stick to the basics (creatine monohydrate, whey protein, a multivitamin, and fish oil). As long as you stick to these basics and reputable brands you'll be fine–there's no need to buy the specific brands mentioned in this guide.
Muscle Mechanics: The Ultimate Exercise Execution Guide to Maximum Growth, Tension, and Longevity.
This is something that Vince spent over a year researching and writing. There's some really valuable information about lifting technique that you may not find anywhere else (not without spending a great deal of time studying).
Secrets of Success
This is more of a general work about succeeding both inside and outside of the gym. I think this would be especially helpful for younger readers–you'll learn how to achieve your goals and be more successful in life. This is a nice addition to the program.
Additional Products ("Upsells")
These are some additional components you can buy with this program. They are optional: you do not have to order them to get the basic muscle-building program. But you may choose to spend a little more if you think some of these will help you reach your goals.  As I've said before, solid training information is always a wise investment:
1. The Ultimate Nutrition Bundle: Additional guides to help you with your diet. There are two options available–the more expensive one includes cooking videos.
2. The Genetic Maximizer Jumbo Bundle: This is the most expensive upgrade, but it includes a lot of useful content.
3. Supplement Offer: To be honest, I'm not sure I'd spend any extra money on supplements or anything related to them. Like I said, it's best to stick to the basics.
Program Review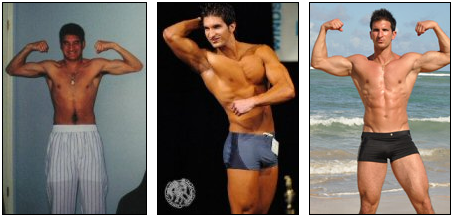 It's been over ten years since Vince Delmonte introduced No Nonsense Muscle Building: Skinny Guy Secrets to Insane Muscle Gain. His success has brought more than his fair share of haters, but my interactions with him have been very positive. He's help thousands of guys build muscle through well-designed training programs.
No Nonsense Muscle Building 2.0 is a fantastic upgrade that reflects the years he has put into being a student of nutrition and training. I really wish programs like this had been available when I started working out decades ago. I would have much rather invested in this kind of knowledge instead of blowing so much money on supplements and wasting time on trial-and-error methods.
Here are the types of people that I think would find this program beneficial:
*Beginners–guys who are just starting and want to learn how to build their foundation of size and strength. I think this is an excellent resource for learning how to build your first 20-25 lb. of muscle.
*Intermediate trainees–guys who have spent some time in the gym but have never followed a program specifically designed for those who are genetically typical and natural (not using steroids).
*Those who are eager to learn. Based on my observation, a lot of guys start working out with very little idea of what they are doing in terms of exercise selection, number of reps, proper form, etc. It is unfortunate because this can lead to a lot of wasted effort.
*Returning trainees–those who have been out of the gym for a few months/years and need to start over. You may find that you have better results by following this program instead of whatever you were doing before.
If this sounds like you then I think you would benefit from No Nonsense Muscle Building 2.0.
Just CLICK HERE if you'd like to order this program at a special discount (limited time offer).
Alternative Program: If you are a more advanced/experienced trainee I'd recommend Ben Pakulski's MI40X.  This program has been one of my best sellers for those looking for an advanced bodybuilding approach.