My name is Kevin.  I'm an entrepreneur, speaker, blogger, gym rat, and former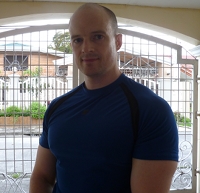 supplement addict (among other things).  I grew up in the USA but I've also had the opportunity to travel and live in other parts of the world.  One of the first things I always look for when I move is a good gym!
Muscle Review is a blog dedicated to the science of gaining muscle and losing fat.  I'm particularly interested in research/writing that helps men and women like me–people who don't live in the gym or make their living from it.  I've also become more interested in studying about aspects of fitness that apply to older trainees like myself (I'm in my 40's).
You'll notice I don't promote many supplements on this blog–that's because I believe most of them are a waste of time (I regularly turn down offers to promote supplements).     Training programs on the other hand, will help you reach your fitness goals.  That's where I'd recommend you invest most of your money.
You can email me if you have any questions or comments.
You can also Follow me on Google +
Disclaimer: In most cases I receive free copies of the workout programs I review (this is standard procedure for fitness bloggers).  You probably have figured this out, but I make money from this blog (from reviews, advertisements, etc.).  I do my best to help my readers find programs that best suit their goals.