I've had the opportunity to review John Barban's Adonis Golden Ratio program.  I've been meaning to post this for quite some time because some of my readers have asked me about it.  I'll start this review by telling you a little bit about the author/creator of this plan:
Who is John Barban?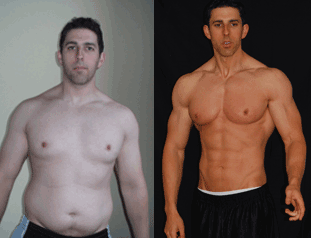 John Barban has two college degrees:  human biology and nutrition from  the University of Guelph (Ontario Canada), and also a Masters In Human Biology and nutrition also from the University of Guelph.  He's also earned multiple training certificates (though he'll be the first to say he questions their real value).  John has also worked in the bodybuilding supplement industry for 8 years  and still occasionally does consultation with them.
More importantly, Barban has learned how to transform his own body.  As you can see in this before/after picture, he's learned how to fine-tune his training and diet in order to create a visually appealing physique.
What is the Adonis Golden Ratio?
Let's look at the whole golden ratio concept.  Men sometimes mistakenly think that they should strive for the professional bodybuilder look.  But studies consistently show that women are not that interested in the 250-pound monster look.  Just do a quick survey if you don't believe me: print out a picture of Mr. Olympia and show it to your female friends.
What women really tend to prefer is the "golden ratio": specific body measurements/proportions will give you a more aesthetically appealing physique.  Some studies suggest, for example, that women are very attracted to men whose shoulders measurements are 1.6 times the size of their waist.  A man with these measurements would have broad shoulders, a v-taper back, and a narrow waist.  The goal of this program is to get as close to these ideal measurements/ratios as possible.
Program Components
Now let's talk about what you get when you order this program: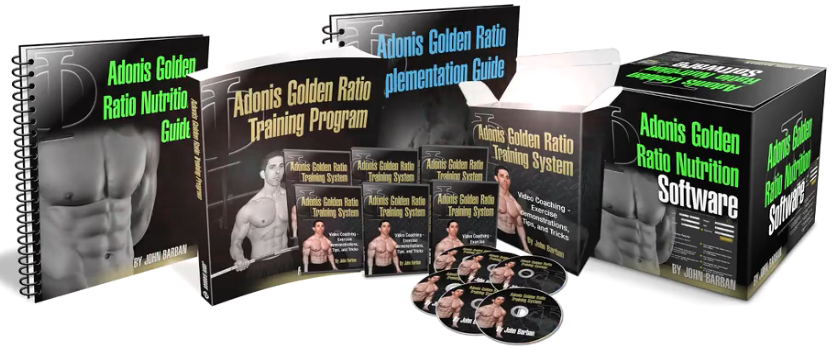 1. Adonis Golden Ratio Training Program: 
Once you order you'll have access to the members area of the website.  Here you can type in your height and weight in order to get the program that will help you with your specific goals.  This 12-week program will guide you through your training.
2. Adonis Golden Ratio Nutrition Guide: 
As the name implies, this material will show you how to eat properly so you can lose fat and build muscle.  Please don't overlook this component–especially if you are trying to lose fat and get leaner.
3. AGR Nutrition Software: 
This is another tool to help you make sure you are doing things correctly as far as diet goes.
4. AGR Video Series: 
Over 70 instructional videos so you can see demonstrations and learn how to do the exercises properly.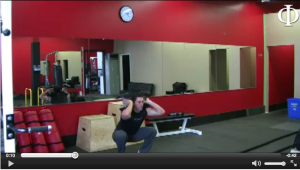 5.  AGR Supplement Guide:
The authors' take on supplements–which ones help and which are worthless.
6: AGR Specialization Programs:
You can download workout programs designed to target specific body parts (arm & abs, back, calves, lesg, and shoulders).
REVIEW:
One thing I really like about the AGR program is the customized design of the workout/diet.  Not all trainees walk into the gym with the same body type, so why should they all train in the exact same way?  I put my height and weight into the website (see image below) just to see what it came up with.  The program and diet it gave me matched my goals/needs very well (fat loss).
Once you've put in your height/weight you'll be pointed to a diet and exercise program that is designed specifically for your needs.

The specialization programs are a really nice bonus.  They give you even more options for customization since you can target muscle groups that may be lagging.
The only area of (slight) disagreement I have is with the supplement guide.  His advice is good, but he endorses a specific brand of supplements.  I'd advise you to simply shop around, buy reputable brands, and stick with the basics.  Do that and I'm sure you'll be satisfied with your results, regardless of the supplement brand you use.  In fairness to John I should point out that he doesn't over-emphasize supplements in this program (or in general).
Overall I think this is a great program that would work well for the following:
*Men who are primarily interested in building an aesthetically pleasing physique.
*Trainees who want a targeted, systematic approach for their goals.
*Beginner or novice trainees who want to spend 12 weeks on a focused transformation program.
The Adonis Golden Ratio program would be a good investment for you if any of these describe you.  Just CLICK HERE if you are interested in ordering this program.