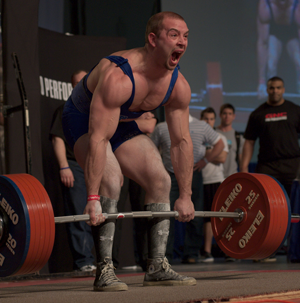 The folks at Critical Bench have a new program out called Hampton Strength Systems.  I've had the chance to look over it, so I'll start my review with a summary of what you get with this program:
Hampton Strength Systems Components:
Bench Mode Training Manual: 
This book is a complete guide on how to increase your bench.  You'll go four through training cycles, complete with assistance exercises.  The workouts are very detailed, explaining exactly what % of your one-rep max you'll need to use for each session.
Bench Mode Printable Training Log:
You can print these sheets to record your progress in the gym.
Book of Methods:
This is an overall guide to methods for getting stronger.  These are workouts (and techniques) designed to build strength/size with specific body parts.  I really like the leg workout I saw–it looks like an efficient, simple way to build your leg strength.
Feats of Strength Training:
This manual really fascinated me.  Hampton explains how he trains for specific feats of strength, like breaking blocks with his fists.
Progressive Rep Training:
This system is based on the concept of using low reps and adding reps within your training cycle.  You'd start out with something like 3×3 on your main exercise/set and try for 3×4 on your next workout.  I know of some elite lifters who use this method.
Basic Barbell Exercises Routine:
This is a routine made up of compound exercises for the purpose of "building over all body strength and conditioning."  The routine can be done 2-3 times a week.
Review:
Hampton Strength Systems is based on the concept of powerbuilding–gaining both size and strength.  I like this way of training because it is what most of us are after.  It's kind of the best of both worlds, combining aspects of bodybuilding and powerlifting.
In addition to the training information, I think most readers will appreciate some of the personal stories the author includes.  I especially liked his descriptions of his personal transformation, competition experiences, etc.
I believe this program is a worthwhile investment for intermediate/advanced trainees who want to build strength and mass.
Just CLICK HERE if you are interested in checking it out–you can get a free gift (Bench Mode) that may help you decide.