Here's a quick summary of The Fat Burning Kitchen, an e-book that is part of the Truth About Abs package.  It was written by Mike Geary (creator of Truth About Abs, Certified Personal Trainer, and Certified Nutrition Specialist) and Catherine Ebeling (RN, BSN).
This book is divided into two main sections:
Part One: Start the Cleanout!
This section guides you in getting rid of foods that have negative effects on your body and fat loss goals.  Just a few examples include foods with refined flour, high fructose corn syrup, trans fats, and soy products.
Part Two: How to Stock Your Fat-Burning Kitchen
Next you'll learn how to fill your kitchen with alternatives to what you've gotten rid of.  Examples include high-quality protein (like grass fed beef), avocados, berries, etc.
There's also a bonus section: The Advanced Nutritional Fat-Burning Blueprint: The 23-Day Accelerated Fat Loss Plan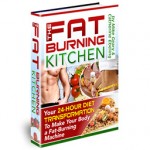 You'll find this book to be very well researched, and I believe following the recommendations will help you lose fat and be healthier in general.
You may be unable to follow 100% of the authors' recommendations.  But I still think you'll find this to be a worthwhile guide with many practical suggestions.
Just click here if you're interested in buying or learning more about The Fat Burning Kitchen. I'd highly recommend you take advantage of one of the bundle packages–you'd have some great workout information to go along with the diet.
Please use my links if this review was helpful.