I've had a few opportunities to try the protein supplement known as Muscle Milk.  How would I review this one?
Well, it is a protein supplement: nothing more and nothing less.  My philosophy on protein is pretty simple–get enough of it and you'll be fine.  There's not some "secret formula" that will make a huge difference in building muscle.  In other words, I don't think Muscle Milk is any better or worse than other protein shakes–it's all a matter of your taste preference and budget.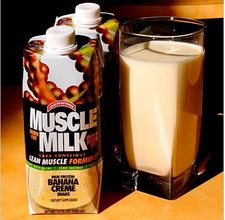 But in fairness to CytoSport, the flavors I have tried do taste really good.  Buying it in the ready-to-drink form is relatively expensive, so you may want to buy the powdered form if you are on a tight budget. Usually what I do is just splurge every once in a while and buy it at the gym.
I like the banana cream flavor of Muscle Milk.  You can check it out at bodybuilding.com:
CytoSport Muscle Banana Creme
If you are really pinching pennies you may want to go with a cheaper alternative like Optimum Whey Protein
(you can buy it in 10lb bags to save money).