Brian Flatt has made quite a name for himself in the fitness industry by teaching people how to rapidly lose weight. His latest program is called the 2 Week Diet, and claims to help you lose as much as 8-16 pounds within two weeks. Is this possible and should you attempt it?
The short answer is it depends. Every trainee has different goals, different sources of motivation, different reasons for doing what they do.  I'm not out to convince you buy this program, but I'll try to help you answer that question regarding what is right for you.  Let me first start this review by summarizing some of the program components:
2 Week Diet Program Components
Launch Handbook
This book is the basic introduction to how this diet works, but it also gives you a pretty good overview of weight loss in general. Flatt explains, for example, that many diets fail because they simply don't deliver results quickly enough and people lose interest/motivation (that's part of the rationale for a more rapid approach). He also shares the role that calories, macronutrie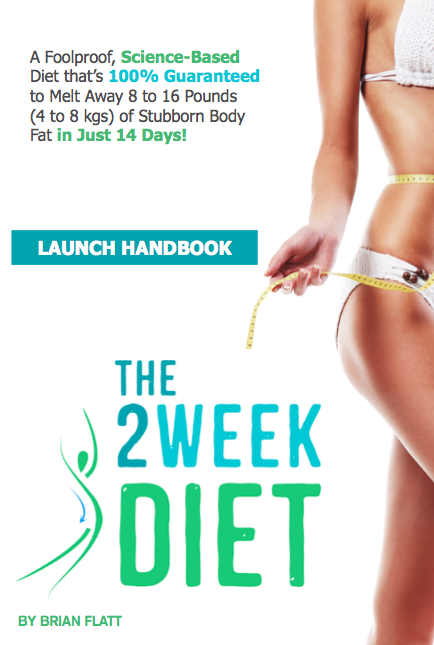 nts (carbohydrates, protein, etc.), hormones, and several other factors play in gaining or losing weight. Someone who is new to diet or nutrition would be able to get a very solid introduction to the basics by reading this book. But the author goes into a lot more detail about how and why this specific approach is so effective even with limited time.
One note: Flatt promotes some supplements in this program at times provides links to specific brands. I'm sure the ones he recommends are fine, but I would advise you to shop around and see if there are better deals out there.   The most important "supplements" he mentions are yohimbine, caffeine, and nicotine (nicotine in particular may surprise you, but read the book and you'll see why he listed it as an option), and all three are easy to purchase online.
Diet Handbook
The 2 Week Diet is broken down into three phases. The first phase involves lowering your carbohydrate intake to switch your body into "fat burning" mode (using fat instead of glucose for fuel). The second phase is an intermittent fast to ramp up your fat loss, and the third phase is a low calorie and low carbohydrate phase designed to get the most out of the metabolic environment you've created with the previous phases.   It isn't that complicated and it is all spelled out in the book in terms that most will be able to understand/follow.
Activity Handbook
This book is an exercise guide you can use while following this diet. The exercise component is primarily consists of short, intense full-body workouts that you can complete with very basic equipment in only 20-30 minutes. A gym membership would be ideal here, but even if you have some dumbbells and barbells (free weights) you should be able to complete the routines. There's a limit to how much training you can do when calories/carbohydrates are limited and this program was designed with that in mind.
Motivation Handbook
This book has some practical suggestions for keeping motivated to stay on the diet. This is important because losing momentum/motivation is probably the #1 reason people don't get the results they want when attempting to follow a diet program. I think you'd find some of his suggestions there to be helpful.
2 Week Diet: Review
It's important to keep in mind that this diet is not something you could sustain over a long period of time.  It's more of a rapid weight loss strategy.  Rapid weight loss strategies are a bit controversial in the fitness industry. These approaches, often called "crash diets," get kind of a bad rap because we've all been told that slow weight loss is better. But considering the current obesity epidemic, I'm inclined to say that any kind of weight loss (provided that it is done safely and correctly) is a good thing.  Some of the same people that would get all upset about this kind of diet are the same folks who have never lost any weight their wholes lives or know very little about nutrition, etc.
There are also advantages to losing weight quickly that I have discussed before on this blog:
Time: There can be situations in which a "slow and steady" approach to losing weight just does not fit an individual's schedule. Someone may want to drop a few pounds quickly to fit into an outfit for a social event. Competitive athletes may need to make weight for an event. There can be several reasons why one would consider trying to lose weight quickly.
Motivation: As I mentioned, one of the main reasons people give up on diets is they just get tired of counting calories without seeing significant changes on the scale. "Crash diets" can help with this because the dieter learns that he/she can achieve results within a relatively short period of time.
Focus: Some people start making lifestyle changes with too many different (even opposing) goals in mind. I've lost count of the number of guys to tell me they want to lose fat and build muscle.   New trainees can often gain muscle and lose fat at the same time, but focusing all your energy and effort into a singular goal (fat loss in this case) will produce quicker results.
Momentum: Rapidly losing weight can be kind of a "jump start" for those who want to see long-term changes in their bodies. Starting off by dropping a few pounds quickly may give you some much-needed motivation for transitioning into a more long-term lifestyle change.
When you consider these (and maybe other) reasons it's no wonder that some people simply want to go with a faster, more extreme approach to weight loss. Flatt's programs are very helpful for those who what to know how to go about this in a way that maximizes their results.
I'll share a little bit of personal experience here: I have been weight training and studying different types of diets for around 30 years. Some of the fat loss methods I've used have been more extreme than others, and I've used some of the very strategies that Flatt has put in this book (such as manipulating my carbohydrate intake).  I've never tried to drop a significant amount of weight in only two weeks, but I do believe it's possible. Based on my experience I would recommend you consider the longer 4 week plan that I recommend below, but if two weeks is all you have, then go for it.
There's obviously a limit to the amount of weight/fat you can lose in just two weeks. But Flatt has put together some proven strategies for losing fat as quickly as possible (reducing calories/carbohydrates, intermittent fasting, etc). I think the 2 Week Diet is a worthwhile (and cost effective) investment for those who want to focus on losing as much weight as possible within a limited time frame.
You can CLICK HERE to order the 2 Week Diet or to learn more.
Alternative Program: Do you have an extra 2 weeks?  As I mentioned, Brian Flatt's 4 Week Diet is also an excellent diet plan that will give you fast results.  An extra 2 weeks could mean you double your fat loss and could set you up for more sustainable results in terms of your long term physical transformation goals.
Remember to check with your doctor before trying any diet and/or exercise plan.
Note: This program I have reviewed has no connection with "Dr. Oz."  I think he has something out with a similar name but it has nothing to do with Brian Flatt's products.