I've had the chance to look over John Barban's Anything Goes Diet. I'll start the review by telling you about the author.
John Barban (pictured above) had a hard time staying lean before he discovered the principles of the AGD lifestyle–you can see the difference in the "before" and "after in this picture: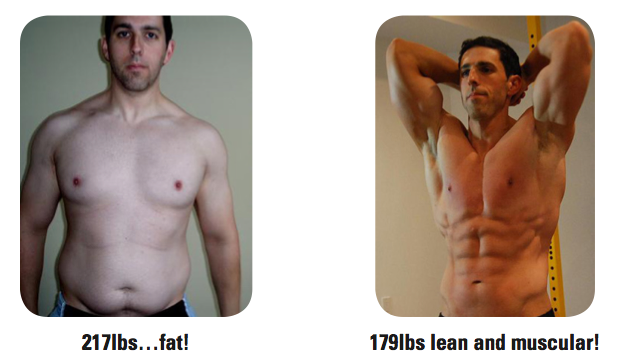 John struggled to stay lean despite having a master's degree in nutrition. He has since discovered a nutritional approach that allows him to eat normally while maintaining a lean, muscular physique. Here's a quote from the book:
"Over time I realized that losing weight is more about your lifestyle than it is about understanding metabolic pathways, 'nutrition', physiology, or how to mix and match specific foods, or meal timing or any of that stuff."
Now let's talk about what you get when you order this program:
1. The Anything Goes Diet Manual: This is an the overall explanation of how this plan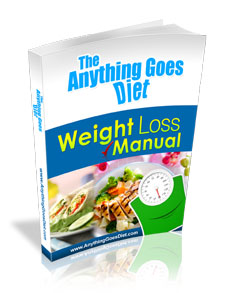 works–the principles that will allow you to lose fat without following an overly restrictive, unrealistic diet. Here's another quote from Barban:
"This manual is a step by step guide for effective and sustainable weight loss results that will stick with you for life."
2. Thinking Thin–Secret Patterns and Automatic Behaviors for Losing Weight: The author discusses some of the psychological aspects of losing fat in this e-book.
3. Social Eating Survival Guide–How to survive holidays, weddings, birthday parties and other social eating events without gaining weight: This e-book shows you how to enjoy social events without completely sabotaging your quest for a lean body.
4. Success Tracker Journal–This is a simple journal you can print out to guide you through your eating habits for the week.
5. Delicious, Easy & Fun Recipes–This e-book has over 150 pages of recipes.
You'll also get access to these items with your order:
*Weight Loss and Weight Maintenance Calculators–to give you accurate estimates of how many calories you should be taking in.
*Supplement Database–provides researched supported recommendations for almost any natural health product or supplement that is currently available on the marketing.
Review/Reaction:
I've always been impressed with Barban's work, and the Anything Goes Diet is no exception. I like this plan because it realistic and sustainable. In other words, anyone can have temporary success by following the ________ diet (insert the name of any diet there). But this author is teaching how to win in the long term without depriving yourself of your favorite foods. I especially like the way he deals with the psychological aspects of weight loss.
Let me give you an example from a popular show: The Biggest Loser. We've all watched the "temptation challenge," where the contestants are given the opportunity to score points by eating "bad" foods. I believe this sends a terrible message–as if one doughnut completely negates weeks (or months) of diet an exercise. The truth is you can have doughnut or piece of cake every once in a while and still lose weight!
I'm not saying you can eat high calorie junk 24/7 and still get leaner–John Barban isn't saying this either. The Anything Goes Diet is about taking a realistic, long-term approach to losing fat and keeping it off.
It think this plan would be of greatest benefit to four types of people:
1. Those who have tried more restrictive dietary approaches without success.
2. People who have struggled with "yo-yo" dieting–losing weight and gaining it back.
3. Trainees who want to maintain a high level of fitness/leanness while keeping a "normal" lifestyle (attending parties, etc).
4. Someone who has lost weight and wants to learn how to keep it off.
If any of these describe you, I think the Anything Goes Diet is worth a try. Just click here to check it out (please use my links if this review has helped you).
Alternative Program:
More advanced trainees may want to check out the Reverse Taper Diet (by this same author).  This program is more expensive than AGD, but it may be worth it for serious bodybuilding types who want very precise information on calories, training, etc.