Visual Impact Frequency Training Review
I've had the opportunity to look over Rusty Moore's latest workout program.  I'll get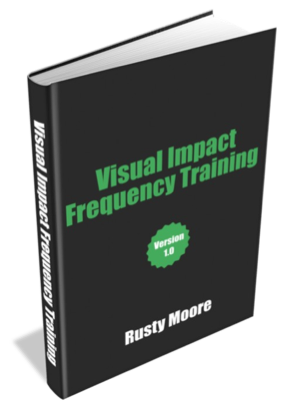 start by explaining some of the basis premises of this workout:
We know that frequency (how often you train a muscle) is one of the training variables we can adjust in order to meet our goals.   Conventional wisdom is that a muscle must get trained then have 48 to 72 hours of recovery.  Most bodybuilders try to take advantage of this by doing body part splits: training a muscle with a lot of volume, then allowing it to rest for the next day or two while you train other body parts.
No one is questioning the effectiveness of traditional split training.  But it clearly isn't the only way to get stronger–it may not even be the best way, depending on your goals.  Many athletes, for example, train at least once a day.  Let's use boxers as an example:  they don't hit the bag for an hour then wait 2-3 days to do it again. Athletes sometimes practice/train several times a day, yet they end up improving in their sport.
Moore argues that we can learn from those who don't follow the typical bodybuilding pattern of working out.  He believes, in fact, that training like an athlete (with higher frequency) is a much more efficient way of getting stronger and leaner.  He also believes a higher frequency style program will produce a harder, more dense kind of muscle.
Moore spent a great deal of time studying the methods of Eastern European athletes in developing his program.  He looked at the philosophies of legends like Pavel Tsatsouline and Vladimir Zatsiorsky.   Zatsiorsky believed in lifting with maximum velocity in order to create the maximum amount of force possible.  Tsatsouline emphasized lifting the weight with slower, controlled speeds in order to maximize the tension on the muscle.   Rusty's program combines both of these philosophies, since each of them have merit.
How is this program set up?  I'll try to summarize it without giving too much away:
You'll be training 5-6 days a week, training every muscle group daily.  That may sound like a lot, but it can be done when other variables (like training volume) are properly adjusted.
You'll only be doing one exercise per body part per workout.  Since you will be training daily there is no need for multiple sets.
You'll be alternating between "explosive" workouts (emphasizing lifting with maximum speed/force) and "TUT" workouts (time under tension–emphasizing slow, controlled movements).
Moore says he was "blown away" when he tried training this way: he saw improvements in in his physique and strength levels in just a few weeks.
Here's another bonus to high frequency training: fat loss.  The book goes into detail about the best way to adjust your diet and add some cardio so you can get lean while building strength.
REVIEW:
I'm very impressed with Visual Impact Frequency Training.  I really like the way Rusty has put this program together.  Is it right for you?  It depends on your goals.
I would not recommend this program for beginners–those who have not put on their first few pounds of muscle.  No Nonsense Muscle Building may be better if you are a novice trainee who is just getting started.
I would also not recommend this for guys who are looking for a typical bodybuilding physique.  MI40X would be better if you are only concerned with mass.
But this program would be great for the following:
1. Trainees who are basically satisfied with their size but want to improve their strength and muscle definition.
2. Guys (or girls) who want to lose fat while maintaining (and even improving) their lean mass (muscle).
3. Those who are willing to train 5-6 times a week.  This program is designed for those who can go to the gym (or train at home) several times a week.
4. Trainees who desire to "mix things up" for two or three months in order to add variety to their workouts and keep things interesting/challenging.
5.  Older trainees who would like an effective way to work out that is relatively easy on the joints.
I think you would enjoy this program if you match any (or all) of the five criteria I've just described.  Please CLICK HERE if you'd like to order or learn a little more about Visual Impact Frequency Training.